Types of Services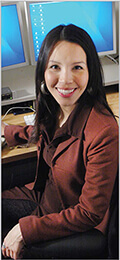 MBTelehealth provides Manitobans with access to health services through the use of technologies, to overcome the barriers of distance, time, and expense. MBTelehealth connects people to the information and services they require to manage their health closer to home.
MBTelehealth Videoconferencing – provides secure, real-time, room-based videoconferencing sessions enabling participants to communicate between two or more locations. This service is used in Manitoba and surrounding jurisdictions to support health-care delivery.
MyMBT Video – allows health-care providers to launch this service from their computer or mobile device anywhere high speed internet is available. MyMBT Video provides secure, real-time videoconferencing that can be used for clinical and non-clinical telehealth events.
MyMBT Messaging – facilitates care coordination between health-care providers by offering secure text messaging and image sharing from the user's computer or mobile device.
eConsult (Store and Forward) – enables health-care providers to ask questions and/or send digital images of some non-urgent health-related conditions to a specialist without the patient having to travel.
For more information on any of these services click on the applicable tab on the right.
Resources
If you are interested in obtaining an MBTelehealth service, complete and submit the MBT Intake Form below (charges may apply for some services).