Clinical Specialist Services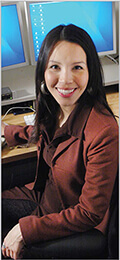 MBTelehealth can provide access to many clinical services. Here are a few examples of health care services that may be suitable for delivery through MBTelehealth.
NOTE: It is always up to the specialist whether they are able to assess a patient through MBTelehealth.
Anesthesia
Anesthetists use telehealth to provide pre-op anesthetic consultation and preparation for surgery to clients.
Dermatology
Several dermatologists see adults and children for dermatology consults by telehealth. A patient camera can provide close up images of the skin.
Dietician
Communities without the services of a dietician have found that telehealth is an excellent alternative for receiving diet counseling.
Employee Assistance Program (EAP)
Provincial employees with EAP benefits can access counselors in Winnipeg for support with work life and personal problems.
Fetal Alcohol Family Association of Manitoba
This association offers support to Manitoba families and professionals related to FAS / FAE.
Genetics and Metabolism
Geneticists provide genetics counseling including prenatal counseling and metabolic clinics.
Oncology
Cancer care specialists use telehealth to provide treatment planning and support to their patients.
Psychiatry
Psychiatrics and psychologists can arrange regular telehealth appointments with adult and child clients.
Respirology
Pediatric respirologists in Winnipeg are able to reassess patients with tuberculosis or other respiratory problems. The electronic stethoscope may be used for the doctor to listen to chest sounds.
Surgery
General Surgeons, Thoracic Surgeons, Neurosurgeons, Orthopaedic surgeons, Plastic surgeons, Vascular surgeons and Pediatric surgeons may offer pre-op consults and post-surgical appointments through telehealth.
Wound Care
Patients with problematic wounds along with their care providers can use telehealth to benefit from the expertise of infection control specialists and wound care nurses.